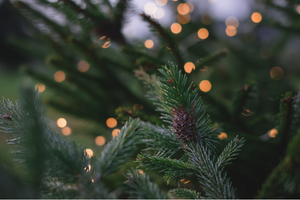 Great Tea Gift Ideas: Our 2019 Holiday Guide
Tea makes a great gift and this year we're making it easy. Below, you'll not only find great ideas for the tea lover in your life, but you'll also help support the efforts of farmers in communities recovering from war.

1. Gift Pack 6-Pack
$79

Always our most popular gift item, this one includes one tea from Nepal, Rwanda, Sri Lanka, Vietnam, Laos and Colombia. If you're looking to share tea from a variety of locations, the Gift Pack 6-Pack is fun and easy. Buy a Gift Pack 6-Pack now!

2. Tea of the Month Subscription
From $72 (shipping included)

The gift that keeps on giving! Prepaid Black, Green or Herbal Tea of the Month Subscriptions offer a different tea each month for 4 to 8 months (depending on the type selected). Shop for a Tea of the Month Subscription!
3. Tea-by-Type Packs
From $28

The Black Pack (six canisters), Green Pack (five or six canisters) and Dark (Pu'er) Pack (two canisters) are great for tea drinkers who know what they like. Likewise, the delicious and naturally caffeine-free Herbal Pack (four canisters) is a treat for those who want to avoid that caffeine hit. Buy a Tea-by-Type Pack!
4. Country Packs
From $18

Know a globetrotter with a favorite place? Give them a Country Pack! Part of the fun here is the different character, tastes and aromas of tea from different parts of the world. It's like wine.

Our Rwandan and Colombian teas are grown in the rich volcanic soil of central Africa and the Andes Mountains. Our Vietnamese tea comes from 300-400-year-old wild tea trees in the far north. Our Nepalese tea comes from the Himalayan foothills. And our Sri Lankan and Laotian tea is carefully and meticulously hand-rolled after being plucked in tropical climates. Buy a Country Pack!
5. Sampler Packs
From $18.99

If you're not looking to spend as much, but want to share a range of tea selections, we have sampler packs by type and region. They contain bags with enough leaves to make at least one full pot of tea per selection. Each sampler pack comes with a coupon for 15% off the recipient's first order. Buy a Sampler Pack!
6. Oak gift boxes
$59

You're buying fine tea, so why not give it in something nicer than usual? These carved, heavy, oak boxes have the Rakkasan Tea logo and hold one canister. Buy an oak gift box!
We hope this guide spurs some ideas as you do your holiday shopping. If you'd like us to include a note to the recipient, please provide the text at checkout in the note section!
---