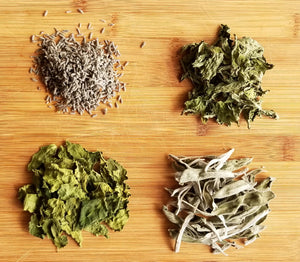 Introducing Herbal Teas from Ethiopia
Today we're launching a new line of four herbal teas from Ethiopia. All are grown organically on small, sustainable farms that prioritize worker livelihoods. This means we can provide you with high-quality, healthy and fresh dried herbal teas grown in a socially and environmentally conscious manner. And all are naturally caffeine-free. (*See note below if you are pregnant or nursing.)

Learn about each new herbal tea below or start shopping!


About Our Ethiopian Herbal Teas

We draw our herbal teas from more than 100 smallholder farmers based around Butajira in the southern highlands of rural Ethiopia. On average, they each have a land holding of less than one hectare. There, they plant, tend and harvest their crops by hand at around 7,000 feet in volcanic, nutrient-rich soil along the Rift Valley. Everything is grown organically without pesticides or fertilizers.




Lavender Abyssinica
Whole Ethiopian Lavender Buds
25 cups | 0.6 oz. (17 g)
$16.99

Long known for its ability to induce calm, our soothing Lavender Abyssinica is the perfect herbal tea for bedtime. Made from the dried buds of Ethiopian lavender flowers, it has a bright and flowery aroma that is beloved around the world. The buds lift the taste of biscuits or cookies and can be mixed with mint as a meat rub when not used for tea. It is naturally caffeine-free.

Buy Lavender Abyssinica




Ethiopian Mint
Whole-Leaf Ethiopian Mint
20 cups | 0.5 oz (14 g)
$15.99

With a cool and refreshing taste, this is the most popular herbal tea in Ethiopia. Smaller-leaved than its European cousin, Ethiopian Mint has more flavor concentrated in its leaves. It is native to the Rift Valley where it is grown in volcanic soil at an altitude of around 7,000 feet. Naturally caffeine-free, it can be consumed as mint tea alone or added to other drinks to provide a minty kick.

Buy Ethiopian Mint




African Moringa
Whole-Leaf Ethiopian Moringa
20 cups | 0.5 oz (14 g)
$17.99

Distinct from its South Asian cousin (Moringa oleifera), African Moringa (Moringa stenopetala) is native only to Ethiopia and northern Kenya where it has long been known as a nutrient-rich "superfood" staple that provides many health benefits. It is grown in volcanic soil at an altitude of around 7,000 feet. As a tea, African Moringa tea has notes of black pepper, corn and green olives. It is naturally caffeine-free.

Buy African Moringa




Abyssinian Sage
Whole-Leaf Ethiopian Sage
20 cups | 0.5 oz (14 g)
$12.99

With a sweet and savory pine-like flavor, our Abyssinian Sage has both culinary and health-promoting qualities. It has a distinctive appearance with long, soft-spear leaves, a fuzzy texture and muted coloring. Its unique flavor is derived from the rich volcanic soil of southern Ethiopia where it is grown at an altitude of around 7,000 feet. It is naturally caffeine-free.

Buy Abyssinian Sage

Don't forget, we also have Ceylon Lemongrass. And if herbals aren't your thing, that's okay! Shop our full selection of premium tea from the post-conflict countries of Nepal, Rwanda, Sri Lanka, Vietnam, Laos and Colombia.

*As with any herbal tea, always check with your doctor prior to use if you are pregnant or nursing.
---