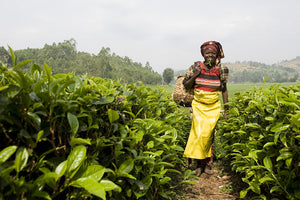 Watch: How our Rwandan tea is changing lives
When most Americans think of Rwanda, they don't think of premium loose-leaf tea. But our Rwandan estate produces some of the best hidden gems of the tea world – and cares for its employees in the process.
Rakkasan's Rwandan tea comes from Sorwathe, 45 miles north of Kigali. Sorwathe is no ordinary estate. Not only is its organically grown tea delicious, but the farm leads in ethical, sustainable practices.

When working mothers on the estate struggled to find adequate care for their young children, Sorwathe partnered with UNICEF. The organizations created a program which increases early childhood care and pre-primary education for families living around the tea plantation. Learn more in this UNICEF video.
Sorwathe was the first Rwandan estate to adopt environmentally-friendly waste recycling. It has been at the forefront on banning child labor and supporting workers' rights – to include becoming the first private company in Rwanda to sign a collective bargaining agreement with its workers. Sorwathe is also Fair Trade Certified, meaning a percentage of profits are reinvested in the community.

To support Sorwathe and its workers, click here and enjoy some Rwandan tea today!
---