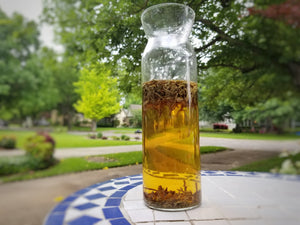 Video: Learn how to make cold-brewed teas for summer
It's getting warmer, so that means it's time to stock up on teas for cold brewing.

We have three from Nepal that are perfect: White Sunrise, a white tea, Himalayan Black Dragon, an oolong, and Himalayan Golden Tips – made of black tea buds.

All three make terrific refreshments when chilled.

So how do you cold brew a tea? Easy. Watch this short video as CEO Brandon Friedman demonstrates!



Himalayan Black Dragon, White Sunrise and Himalayan Golden Tips are grown on small farms in the mountains of eastern Nepal, not far from Darjeeling. They're great hot, but the slow infusion in cold water really makes the flavor and aroma burst.

Here's the written version for how to cold brew loose tea:
Take ½ to ¾ of an ounce of loose tea. (Our canisters contain 1.5 – 2.0 ounces.)
Place the leaves in a 0.75 L to 1.0 L vessel, with or without a built-in strainer.
Fill with room temperature water.
Place in the fridge and let chill for 4 – 12 hours. (Definitely experiment, as the flavor changes while it steeps!)
When ready, pour the tea over a strainer to catch the leaves.
Enjoy!
And remember, while we recommend these three, you can cold-brew any tea!
---